All custom sashes are available in retail to individuals and small groups, or in bulk orders to schools, universities and large organizations.
Personalized Bridal Satin Sashes
Graduation sashes and stoles are 5" to 42" from neck to tip, and made of a soft bridal quality satin. You can choose the colors of the sash, trim and thread. They can be personalized with your name, logo or custom message.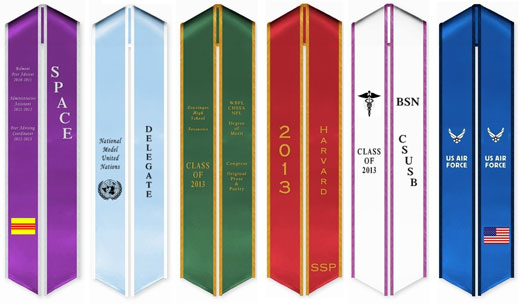 Start Designing your custom sash or visit the store page.
Greek Stoles
Custom greek stoles are the perfect match for your sorority, fraternity or honor society. You can choose your own greek symbols and chapter, or greek crests and your personalized embroidered letters. We also offer pre-made sashes with your crest and letters. We are an approved greek licensing™ member for sororities and fraternities.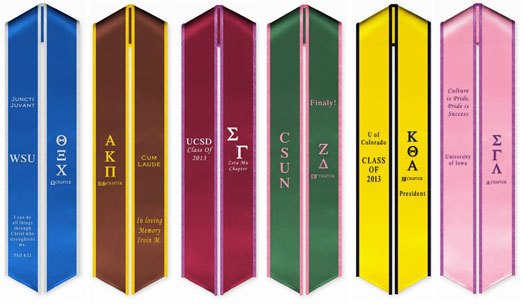 Kente
The kente sash is a printed black kente design, and comes with a black fringe.
Serape
Made of traditional Mexican material. Serape color may vary. The sample image is for viewing purpose only. The serape sash comes with a white fringe.
Native American
A traditional Native American pattern. It comes with real feather fringes

Additional hybrid and ethnic stoles are available.